03.03.2008
Foreign Minister Dr Rupel speaks at the 7th Session of the UN Human Rights Council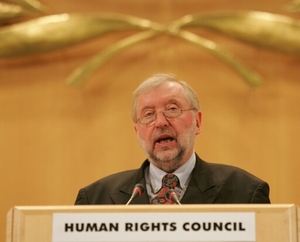 Today in Geneva, the current President of the EU General Affairs and External Relations Council, Slovenian Minister of Foreign Affairs Dr Dimitrij Rupel, attended the high-level segment of the 7th session of the UN Human Rights Council. The key challenges of this session, which opened today and will conclude on 28 March, will be evaluating the mandates of UN special rapporteurs on individual areas of human rights and taking decisions on the renewal of these mandates, as well as addressing serious human right violations in the world in an appropriate fashion.
Dr Rupel stressed, in opening, that it was an honour to speak before the UN Human Rights Council on behalf of the EU and the EU candidate countries on the occasion of the forthcoming 60th anniversary of the Universal Declaration of Human Rights. The Declaration, a major achievement both at the time of its adoption and still today, has made an important contribution to the recognition of human rights and fundamental freedoms throughout the world. Nevertheless, he emphasised, "putting rights and freedoms into practice remains an important goal in all regions of the world."
This year also marks the 15th anniversary of the establishment of the Office of the United Nations High Commissioner for Human Rights, added Dr Rupel, taking the opportunity to convey to High Commissioner Louise Arbor the European Union's "deep respect and thanks for her leading role and vision in the implementation and protection of human rights".
In his speech, Minister Dr Rupel also addressed the human rights situation in certain countries in the world and outlined relevant activities and initiatives to be presented by the EU at this year's Council session.
Dr Rupel concluded by stressing the important role of intercultural dialogue in the world. "In 2008, the European Union is devoting itself fully to intercultural dialogue, and I hope that this year's slogan "Together in Diversity" will also inspire our work at this session of the Human Rights Council."