04.03.2008
Prime Minister Janez Janša receives the President of the Committee of the Regions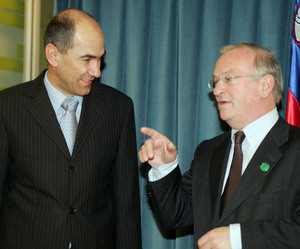 The Prime Minister of the Republic of Slovenia and President of the European Council, Mr Janez Janša, today met the President of the Committee of the Regions, Mr Luc Van den Brande. The Prime Minister took the opportunity to stress the importance of cities and regions in the implementation, monitoring and assessment of the Lisbon Strategy for Growth and Jobs.
Mr Janša and Mr Van den Brande exchanged views on the resolution "Strategy for Growth and Jobs – Handling the Lisbon paradox", prepared by the Committee of the Regions for the forthcoming European Council. They agreed that different levels of administration – local, regional, national and European – should cooperate more closely and systematically in implementing the Lisbon Strategy and stressed the urgent necessity of continuing the Strategy also after 2010.
Mr Van den Brande expressed support for the Slovenian Government's regionalisation project, emphasising its extraordinary importance in terms of improving citizens' prosperity.