12.03.2008
Slovenian Philharmonic Orchestra concert in Brussels today – official Slovenian EU Council Presidency event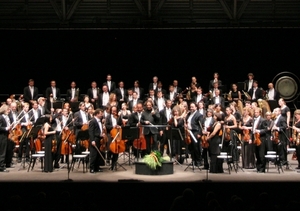 The Slovenian Philharmonic Orchestra will give a concert at the Bozar Palace of Fine Arts in Brussels at 20.00 today.  The concert is a precursor to the spring meeting of the European Council which will be chaired on Thursday and Friday by the Prime Minister of the Republic of Slovenia and current President of the European Council, Mr Janez Janša, who will also attend the concert.
Under the baton of maestro George Pehlivanian, the orchestra will perform Gustav Mahler's Symphony No 2 – the "Resurrection" symphony. Mahler actually began his artistic career in Ljubljana as conductor at the then Stanovsko gledališče (Estate Theatre).
The soloists in the concert commemorating this historic moment will be the soprano Sabina Cvilak and mezzosoprano Bernarda Fink.
The Slovenian Philharmonic's main symphony orchestra started to perform under the name Academia Philharmonicorum back in 1701, making it the third professional philharmonic society in Europe at that time. At a recent concert on the official programme of the MIDEM Music Trade Fair in Cannes, the orchestra was described by the music director of the event as "the best-kept secret of the European music scene."