29.03.2008
Intercultural Dialogue the Focus of a Working Lunch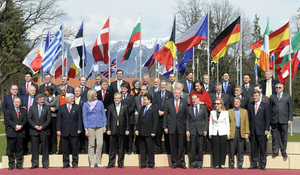 The last topic discussed at today's informal meeting of EU foreign ministers held at the congress centre in Brdo, Slovenia, was intercultural dialogue.  At the end of the meeting, GAERC President and Foreign Minister Dimitrij Rupel said that the discussion had focused on the latest developments in Tibet and Islam, also with regard to the film recently released by Dutch MP Wilders.
Minister Rupel noted that the participants were concerned about the latest developments in Tibet, had condemned violence, and expressed solidarity with the victims. The European Union calls for the renunciation of violence, and urges the Chinese authorities to ensure the transparency of information and to enable the media free access to Tibet. The participants noted the Dalai Lama's pledge to strive for the autonomy, and not independence, of Tibet. In this context, they emphasised the demand for the preservation of the Tibetan language, culture, religion, and tradition, and undertook to dedicate particular attention to human rights in Tibet.
The ministers also discussed the developments in connection with the release of the film on Islam by Dutch MP Wilders. They stressed the right to freedom of expression and further noted that Islam could not be equated with violence, since the victims of violence are often Muslims themselves. Freedom of speech, which remains one of the basic values of the EU, must, however, respect the religions and beliefs of other people.