15.05.2008
EU and USA open second-stage negotiations on EU-US Open Skies Agreement today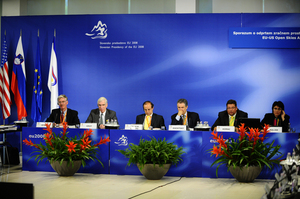 The European Union and the United States of America today opened the second phase of negotiations on the 'Open Skies Agreement' – an agreement liberalising air traffic between the EU and the USA. In addition to Slovenian Transport Minister Radovan Žerjav, the current President of the EU Transport Council, the opening of the event was also attended by Zoltán Kazatsay, the Deputy Director-General of the European Commission's DG Energy and Transport, Clayland Boyden Gray, the Special Envoy of the US to the EU, more than 90 representatives of EU Member States, the European Commission, the United States as well as representatives of the European and US aviation industries.
During the two-day meeting, the American and European negotiators will agree upon the course of the second-phase negotiations and will discuss some unresolved issues, such as continued liberalisation of the market, investment opportunities and environmental policy.
As the Slovenian Minister of Transport and current President of the EU Transport Council, Radovan Žerjav, commented in his opening address, the Aviation Agreement, which was signed last year and provisionally entered into force just over a month ago, was an important milestone in the development of good relations between the United States of America and Europe. "Today's event gives new impetus to this Agreement and enables us to find solutions to all the issues that remained outstanding after the first phase," stressed Minister Žerjav. 
Since, as previously during the preparation of the basic agreement, both parties have demonstrated great understanding and recognised each other's interests, the Council President continues to be optimistic about future results. He expects both delegations to make their best efforts, in negotiations, to identify mutually acceptable solutions, taking account of the interests of both airlines and passengers.
The common objective of the signatories to the EU-US Agreement is to further open market access and increase benefits for consumers, airlines, the workforce and communities on both sides of the Atlantic. In order to continue this process, the contracting parties will develop a plan which will also include the determination of priority interests for each contracting party. In the negotiation process, the delegates will therefore, as expected, focus on searching for joint solutions on further liberalisation of traffic rights, additional opportunities for foreign investment, the impact of environmental measures and infrastructure restrictions on the exercise of traffic rights, further access to air transport financed by the State and the provision of aircraft with flight crew.