15.05.2008
Minister Žerjav's address at the opening of the second phase of negotiations between the EU and USA on Open Skies Agreement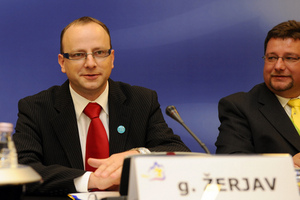 Distinguished Special Envoy of the US to the EU, Mr. Gray,
Deputy Director-General of DG Energy and Transport, Mr. Zoltán Kazatsay
Heads of negotiators, Mr. Calleja and Mr. Byerly
Ladies and gentlemen,
It is an honour and a pleasure for me to be able to greet you in Slovenia for the opening of the second phase of negotiations on Open Skies Agreement between the EU and the USA. The number of participants present here today reaffirms the importance and the urgency of issues which need to be tackled in this phase of negotiations. The issues are certainly demanding and they deserve great attention, particularly due to ambitious expectations of the aviation industry on both sides of the Atlantic.
The open Skies Agreement, which was signed last year and which provisionally entered into force a month ago, is an important milestone in the development of good relations between the United States of America and Europe. Today's event gives a new impetus to this agreement and enables us to find solutions to all issues which we did not manage to agree upon in the first phase.
By concluding the first phase, we made considerable progress at regulating air transport between the EU and the USA. Numerous contracts and different rules which so far regulated this transport mode are now replaced with common regulations which can serve as the model for regulating air transport not only between the EU and the US but also in general. While preparing this agreement, both parties demonstrated great understanding and recognition of each other's interests. The concluded agreement already defines the areas where common solutions are yet to be found. It is hard to predict which open issues will be solved first and which will be left for latter stages. But I nevertheless optimistically expect both delegations to make their best effort in searching for mutually acceptable solutions and to take into account the benefits of both the airlines and the passengers.
Regardless the success and dynamics of the negotiations, we also need to work on the implementation of the provisions which are already in force. This will help us build trust in the agreement between airlines on both sides of the Atlantic, while the satisfaction of passengers could further urge us to find solutions to those issues on which there are still second thoughts about their benefits and advantages. 
Ladies and gentlemen,
Allow me to wish you an enjoyable stay here in the country holding the EU Council Presidency. Let this beautiful and green environment be an additional encouragement for you to try meeting your negotiating positions.