27.05.2008
Agriculture Ministers suppport more effective Adaptation to new Challenges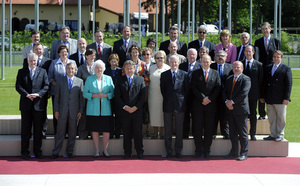 At the informal meeting of EU Agriculture Ministers at Brdo pri Kranju, the Ministers discussed new challenges, i.e. adapting European agriculture to climate change, biofuels, environmental protection and risk management in agriculture and food safety. They agreed  they had to be more ambitious in the review of the reform of the common agricultural policy (CAP). Specific measures should also be considered, as well as options for providing additional financial resources for their implementation.
The current President of the EU Agriculture and Fisheries Council, Slovenian Minister Iztok Jarc stressed, "Reaching the objectives of food safety and environmental safety cannot be left to market forces. We need active, development-oriented agricultural and economic policies in Europe and in the world. Effective measures supported by adequate funding are needed to enhance the multifunctional role of agriculture. Effective measures need to be adopted with a view to boosting the economic development of rural areas, since that will result in reducing the differences in development between individual rural areas in the EU."
As possible guidelines for adaptation to new challenges, the Presidency underlined the need for flexible mechanisms to ensure sustainable agriculture, in which food and raw material sources are defined. The process of reducing the rural development gap of the least developed regions should be accelerated. Steps should be taken to prevent out-migration from and the abandonment of farming activities in remote rural areas, and hence to contribute to the preservation of habitats and biodiversity.
We need to speed up technological progress in agriculture so as to increase crop yield and thus secure appropriate levels of food safety by producing safe, quality food at reasonable prices while ensuring a sustainable balance between agriculture and the environment. Technological development should also comply with the objectives of reducing greenhouse gas emissions and should adapt to climate change. While adhering to these principles, soil, water and air - the very foundation of food safety and environment safety - must be protected.