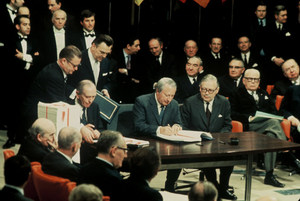 9 May 1950
French Foreign Minister Robert Schuman presents a plan for strengthening the cooperation between European countries. Later, every 9 May is celebrated as 'Europe Day'

.
18 April 1951
Based on the Schuman plan, six countries sign a treaty to run their heavy industries, coal and steel, under common management. In this way, none can on its own make the weapons of war to turn against the other, as in the past. The six are Belgium, France, Germany, Italy, Luxembourg and the Netherlands.
25 March 1957
Building on the success of the Coal and Steel Treaty, the six countries expand cooperation to other economic sectors. They sign the Treaty of Rome, creating the European Economic Community (EEC), or 'common market'. The idea is for people, goods and services to move freely across borders.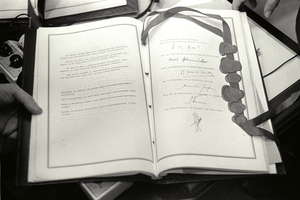 17 February 1986
Although customs duties disappeared in 1968, trade is not flowing freely across EU borders. The main obstacles are differences in national regulations. The Single European Act

of 1986 launches a vast six-year programme to harmonise them. The Act also gives the European Parliament more say and strengthens EU powers in environmental protection.
7 February 1992
The Treaty on European Union

is signed in Maastricht. It is a major EU milestone, setting clear rules for the future single currency, as well as for foreign and security policy, and closer cooperation in justice and home affairs. Under the treaty, the name 'European Union' officially replaces 'European Community'.
26 March 1995
The Schengen Agreement takes effect in seven countries — Belgium, France, Germany, Luxembourg, the Netherlands, Portugal and Spain. Travellers of any nationality can travel between all these countries without passport controls at the borders. Other countries have since joined the passport-free Schengen area.
17 June 1997
Signing of the Treaty of Amsterdam

. It builds on the achievements of the treaty from Maastricht, laying down plans to reform EU institutions, to give Europe a stronger voice in the world, and to concentrate more resources on employment and the rights of citizens.
26 February 2001
Following the December 2000 European Council meeting in Nice, a new Treaty amending the Treaty on European Union and the Treaties establishing the European Communities, is signed (Treaty of Nice

). The primary purpose of the Treaty of Nice was to reform the institutional structure to withstand the enlargement of the European Union.
29 October 2004
The EU countries sign a Treaty establishing a Constitution for Europe. It is designed to streamline democratic decision-making and management in an EU of 25 and more countries. When citizens in both France and the Netherlands voted 'No' to the Constitution in referenda in 2005, EU leaders announced a "period of reflection".
13 December 2007
Leaders of the EU Member States signed the Reform Treaty in Lisbon that is to enable the European Union efficient work and strengthen its role in the world. The Lisbon Treaty

, as named officially, now needs to be ratified by all 27 states. The new treaty will not be a constitution to substitute all the previous treaties but to substitute or change the existing treaties; in particular European Union Treaty and the Treaty establishing the European Union.

  top