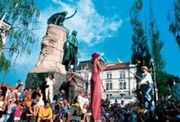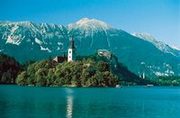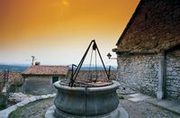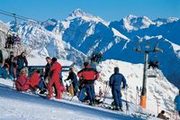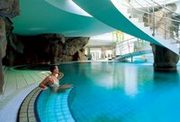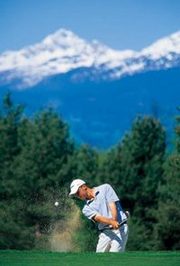 The First Encounter
You don't know where to look first - toward the mountains or the plains.
Would you rather set out toward the sea of the green Mediterranean, or follow the sound of the wind to the nearby Pohorje?
Don't worry, there is plenty of time for everything…
Lively Ljubljana

. Sunny Alps

. Mysterious Karst

. Green Mediterranean

. Smiling Pohorje

and the city below.
You can catch it all in one passing glance if you want. But don't, because around every turn lies a new surprise worth a second and even a third glance: the enjoyable countryside, attractive cities, inviting springs of invigorating thermal water, and countless opportunities for exercise. Explore the sights and sounds of the dreamy Pomurje

in the east, the hills of Dolenjska

in the south, and find inspiration in the mysterious Koroška

up north. Covering a mere 20,273 square kilometres, Slovenia will astonish you with its diversity of life, the natural and geographical features, ethnographic marvels, the variety of traditional foods, its cosmopolitan liveliness, and business opportunities.
Thousands of experiences
You want something but don't know what. Don't stop to decide.
Wherever you've been, there are still places you can visit, and you can't take a wrong road.
Wellness centres

and invigorating spas

. Meetings at congresses and conferences

. Casinos and countless events.
In the abundance of memorable experiences find small pleasures that will make your day. A glass of world-famous top quality wine in an ancient wine cellar

the feeling of might on a mountain trail

to a high peak , the incredible view from a golf course

, the excitement in the saddle

on a white horse, the smell of hay drying on a Slovenian kozolec, the sound of the past echoing in a Karst cave, muddy wheels on a lantern-lit road through a former coal mine, the rhythms of a colourful concert, the first encounter with the emerald waters of one of Europe's most beautiful alpine rivers

, skiing on white slopes

, touching the dragons that guard the bridge

, spotting a stork nesting on a chimney, tolling the wishing bell on an island in the middle of a lake...
So many unique impressions in a country where something different can happen at any moment. It is barely 300 kilometres from one end to the other, but the attractive byways

of Slovenia are endless.